UTEC NEWS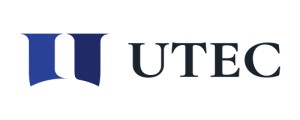 On July 2nd 2021, We UTEC hosted our "UTEC Venture Meetup 2021"
The opening address was delivered by Professor Toshiya Watanabe, Executive Vice President of the University of Tokyo.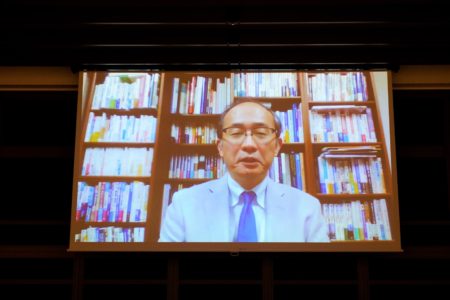 Then, UTEC President Tomotaka Goji gave a keynote speech focusing on the following topics
●UTEC's Vision: Pioneering frontiers to solve global issues of humankind, by bringing capital, talent and knowledge, around science and technology
●UTEC's Activities:
~UTEC is a Venture Capital firm that provides consistent hands-on support from the seed / early stage to various science and technology start-ups in collaboration with domestic and overseas academia such as the University of Tokyo.
~UTEC has announced the launch of its UTEC No.5 Fund, one of the largest science and technology fund in Japan, with a commitment amount of 30.4 billion yen. This brings the total amount of funds raised since 2004 to approximately 85 billion yen.
~Build deep relationships with entrepreneurs, scientists and engineers, and invest in start-ups that challenge issues of humankind and the global markets. So far, UTEC has invested in more than 110 start-ups, 13 of which have gone public and 12 of which have been exited through M&A (as of June 2020).
~UTEC's Investment Strategy: "Prominent Science and Technology", "Strong Team", and "Global Markets and Issues of Humankind".
~Support the growth of start-ups through HR: More than 100 professionals have participated in UTEC's portfolio start-ups as co-founders and executives.
~Collaborate with leading science/technology VC's in the world (US: ARCH Venture Partners, India: Blume Ventures, UK: Amadeus Capital Partners).
~Contribute to create a virtuous cycle of academia and start-ups: UTEC contributes to academia by supporting young researchers and fundamental research, and creating scholarships for university and graduate students who need financial support
●UTEC 5 Limited Partnership (Total Investment: 30 Billion yen)
~Providing strong investment at the early-stage for the hiring of executives and the promotion of global business
~Start of the "UTEC Founders Program" to provide rapid support in investment and grants
●Video messages from Dr. Radu Rusu (US, CEO Fyusion, Inc. M&A by the largest automobile services company in the US: Cox Automotive in December 2020) and Dr. Kevin Knopp (US, CEO 908 Devices, Inc. IPO December 2020 on the NASDAQ stock exchange: MASS).
●UTEC envisions to support start-ups both in Japan and overseas that solve the issues of mankind through the accumulated strengths in Japanese science, technology and industry to address the challenges the nation faces such as the declining birth rate, aging society, declining population and labour shortage. By giving back to universities and other research institutes, we hope to create a virtuous circle in which start-ups based on science and technology are continuously born.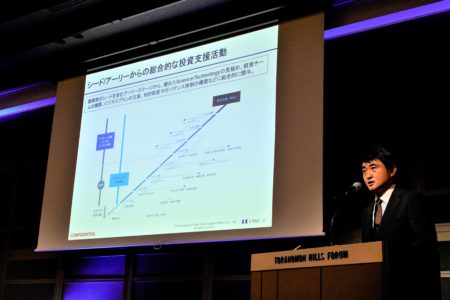 Three panel discussions were held after the keynote speech in line with UTEC's three investment strategies of "Prominent Science & Technology", "Strong Team", and "Global Market and Issues of Humankind" in the areas of IT, Life Science & Healthcare, and Physical Science & Engineering.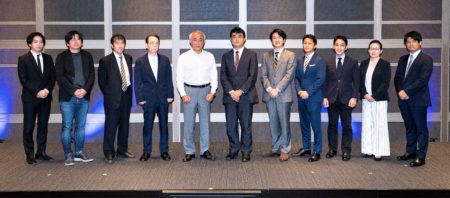 In the IT panel, UTEC Board Member and Partner Noriaki Sakamoto and Partner Keis Ide moderated a discussion with ACSL Chairman Dr. Hiroaki Ohta and AI inside CEO Mr. Taku Toguchi.
They exchanged their views on how governance and speed changed after receiving VC investment, and how the company and management changed before and after the listing on the Tokyo Mothers Stock Exchange. Dr. Ohta and Mr. Toguchi also shared their views on how technology venture companies should approach POC.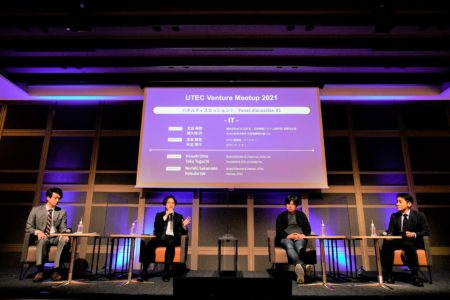 The following Life Science & Healthcare panel, moderated by UTEC Board Member and Partner Atsushi Usami and UTEC Partner Maiko Katadae, featured discussions with Mr. Kiichi Kubota, Founder of PeptiDream, Inc. and current President of KSP Corporation, and Dr. Ryuji Suzuki, CEO and Chairman of Repertoire Genesis, Inc.
There was a lively discussion on the following points: how recent technological innovations in the biotechnology field have made it possible to develop profitable platform businesses that contribute to the discovery of breakthrough new drugs, and how the implementation of complex new technologies into society requires branding that communicates business content and impact in an easy-to-understand manner. Furthermore, the discussions stressed the importance of the focus on providing scalable, sustainable and value-added products and services over the medium to long term rather than chasing short-term sales.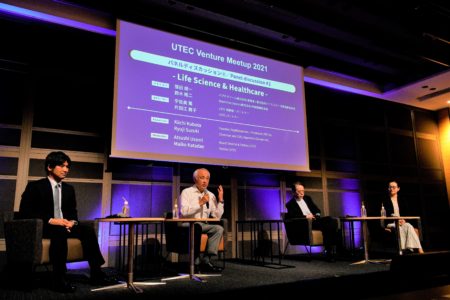 Finally, in the Physical Science & Engineering panel, UTEC President and Managing Partner Tommy Goji and UTEC Parter Nori Kurokawa moderated a discussion with Mr. Iwao Yoshino, CEO of Microwave Chemical Co., Ltd. and Mr. Tomohito Ihara, President of Green Earth Institute Co., Ltd.
Mr. Ihara and Mr. Yoshino discussed how they have developed their core science, technology, and business model while adapting to the market and their customers. Mr. Ihara and Mr. Yoshino also shared their thoughts on how to apply the recent trends of ESG and SDGs to business growth.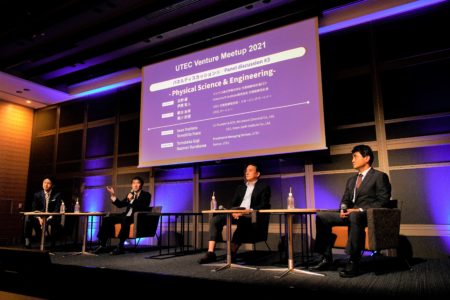 This event was held at the Toranomon Hills Forum, with only the speakers in attendance and the audience participating online due to the covid-19 pandemic. The event was a great success with around 600 professionals in attendance from start-ups, institutional investors, financial institutions, academia, governmental organizations, securities markets, large corporates, and the media; from Japan and abroad.