SOC
Startup Opportunity Club
The "UTEC Startup Opportunity Club (SOC) is a UTEC unique invitation-only community for professionals who are interested in managing portfolio companies that aim to expand globally from day one and solve global issues of humankind. SOC members will have exclusive access to undisclosed information about Deep Tech Startups, invitations to small study groups, and opportunities to communicate with portfolio companies. Some members have already joined as management executives in successful portfolio companies.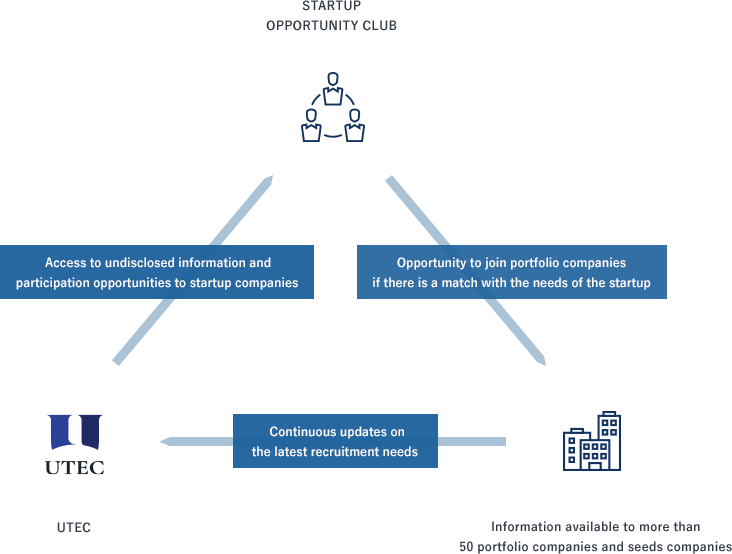 VALUE
Value of SOC
Access to exclusive and undisclosed
information about startups

Latest technology trends and market will be provided to SOC members. UTEC also offers opportunities to meet with startup executives to share their ideas and knowledge

Participation opportunities to
Deep Tech Startups

Opportunity to join a startup as co-founder or management executive

Expanding
Your Network

SOC provides opportunities to build your network with other SOC members, startup executives, and UTEC members through invitation-only events
MERIT
SOC provides opportunities to build your network
with other SOC members, startup executives,
and UTEC members through invitation-only events
Participation opportunities
to promising startups

All startups have been evaluated and supported by UTEC investment professionals who have extensive experience in investment to Deep Tech Startups as well as in IPO/M&A. You will be offered an exclusive opportunity to join these startups as an executive member

Undisclosed opportunities

You will have access to undisclosed opportunities such as joining startups as a co-founder along with cutting-edge scientists or entrepreneurs who are considering starting their own business

Opportunities to assess Skill and Culture Fit

Recruitment through SOC is different from the general recruitment process which typically involves several interviews. SOC members will have an opportunity to carefully assess their skills and fit to the potential executive opportunities through SOC events or casual discussions with startup executives. SOC members are welcome to ask for advice to any UTEC team member.
EVENT REPORT
Past Event Example
Event at the Yahoo! Event space on the 30th November 2019
More than 40 SOC members who were invited by UTEC had attended this event. The event consisted of 2 panel discussions. One was with UTEC investment professionals about the latest technology and investment targets, and another one was by executives of our portfolio companies about current efforts and their future visions. This event finished with a social gathering of all members invited.
FLOW
How to join UTEC SOC
We are looking for members with the following aspirations:
Intent to be a part of the management/leadership team of Deep Tech Startups or starting a business in the future.
Strong aspiration to solve universal problems at global scale by utilizing science and technologies
Have a significant track record in professional firms, technology companies, or startups

ENTRYPlease register with the contact form below.