UTEC GLOBAL
UTEC Global
Creating New Industries to solve Global Issues of Humankind
by bringing Capital, Talent, and Knowledge, around Science and Technology
Creating New Industries to solve Global Issues of Humankind by bringing Capital, Talent, and Knowledge, around Science and Technology
OUR GLOBAL
INVESTMENT PHILOSOPHY
Our Global Investment Philosophy
At UTEC, our motto is to create new industries to solve global issues of humankind by bringing capital, talent, and knowledge, around science and technology. The tenet that science and technology have no boundaries is core to our philosophy. We have been investing in global deep-tech startups for over a decade by leveraging our strong network of Japanese and international research institutes, corporations, and co-investors. Our approach is to complement such startups with Japanese industrial and scientific collaborations to create success cases on a global scale. Today, UTEC has a portfolio of over 30 global startups in USA, India, Southeast Asia, Europe and Africa. In addition, we have partnered with marquee funds such as Blume Ventures (India) and Amadeus Capital Partners (Europe) to further our international presence and expand our global deal-sourcing and value-add networks.
Our Investment Structure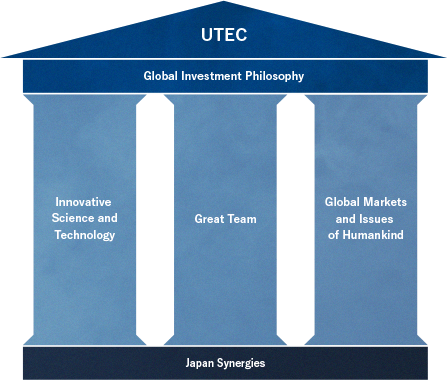 We typically invest from seed/early-stage (Seed, Pre-Series A, Series A) to later stage and support the entire lifecycle of the startups that apply profound Science & Technology to multiple sectors: Healthcare & Life Sciences, Information Technology (IT), Physical Sciences & Engineering. The startups we back are characterized by a strong and diverse team of scientists, engineers, and business leaders. We also have a penchant for bold startups going after global markets from day one by tackling issues of humankind in a scalable and profitable manner. We tend to lead or co-lead most of our investments in the earlier stages of the startup.
OUR VALUE-ADD
Our Value-add
Our experience of investing
in over 110 deep-tech startups since 2004
has crystallized our DNA
as hands-on, value-add investors.
ENABLING JAPANESE
STARTUPS TO GO GLOBAL
Enabling Japanese
Startups to go Global
Some of the issues affecting present-day Japan such as ageing population, labor shortage, digital transformation of legacy industries and revitalization of economic growth will be faced by other countries in the future. We encourage our Japanese startups to have a global outlook from day one and actively support their international expansion in the following ways.
ENABLING GLOBAL
STARTUPS TO BUILD
THEIR FOOTPRINT IN JAPAN
Enabling Global Startups
to build their Footprint in Japan
Japan is the third-largest economy in the world. We seek tangible Japan synergies for the global startups we invest in. The startups are not mandated to have an active business in Japan before our investment, so long as there is scope for potential collaboration with Japanese academia & industries. We actively support our global portfolio startups to accelerate their growth by building bridges to Japan:
OUR GLOBAL SUCCESS STORIES
Our Global Success Stories
908 Devices, Inc.. (Headquarters: Boston, Massachusetts, USA, CEO Kevin J. Knopp) was listed on the Nasdaq market in the United States on Dec 18, 2020. The company makes an innovative suite of purpose-built handheld and desktop mass spectrometry, or Mass Spec, devices for the point-of-need. More details on the websites of 908 Devices and Nasdaq. UTEC first partnered with 908 Devices by co-investing in their Series A round with Arch Venture Partners in 2012.
Fyusion Inc. (San Francisco, CA, USA) was acquired in December 2020 by Cox Automotive Inc. (Atlanta, Georgia, USA), a corporation that operates an automobile distribution business.Fyusion is a computer vision startup and leader in immersive vehicle imaging solutions for automotive and other industries. More details in the press release of Cox Automotive Inc. UTEC first partnered with Fyusion by co-leading their Seed round with NEA (New Enterprise Associates) in 2014.

Phyzios Inc. (Tokyo, Japan) was acquired by Google in February 2013. Phyzios built physics simulation technologies for entertainment use-cases. UTEC first partnered with Phyzios in their Seed round in 2009.
popln Inc. (Tokyo, Japan) was acquired by Chinese technology behemoth Baidu in May 2015. Details can be found here. popln was an online ad-tech startup that was spun-out from The University of Tokyo. UTEC first partnered with popln soon after inception in 2008.
GLM Co, Ltd. (Japan) was acquired by Hong Kong-based listed company O Luxe Holdings Limited in July 2017. Press release here. GLM developed automobile chassis platforms to build the next generation automobiles.
CONTACTIf you are a seed/early-stage
deep-tech startup from anywhere
in the world with Japan synergies,
we would love to hear from you.
Please reach out to us here.