UTEC NEWS
"UTEC Venture Meetup" is an event where people associated with UTEC get together to ITO International Research Center.  On this day, over 400 people from startups, major manufacturing players, IT companies, major pharmaceutical companies, university officials, researchers / students, financial institutions, media and many others gathered to lead the event to a stunning success. The main event (13: 30 ~ 18: 00) comprised of a short pitch by 36 startups from the UTEC  portfolio (Life Science & Healthcare, IT, Physical Science & Engineering), a panel discussion centered around "The future of University spin-off Startups" (Panelists: Mr. Kazuhiko Toyama, CEO of Industrial Growth Platform, Inc. , Professor Yutaka Matsuo, Associate Professor, Graduate School of Engineering Department, The University of Tokyo, Moderator: Mr. Tomotaka Goji, President & Managing Partner of UTEC) Followed by a networking party (18: 15 - 19: 10), where Mr. Katsuhiko Oizumi, President of Utokyo Innovation Platform Co., Ltd.,  graced the occasion with his warm words and Mr. Kazuhiko Toyama, CEO of Industrial Growth Platform, Inc., toasted to start off the dinner party.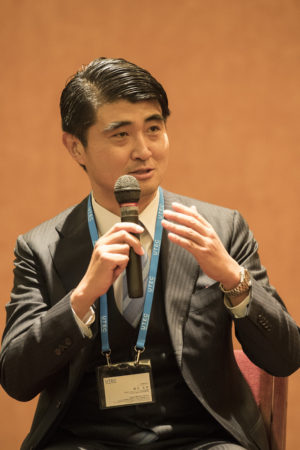 Innovation can also be perceived as forming "new bonds". UTEC is the result of an innovative bond between law, Limited Partnership Act for Investment, issued in 1998, and an academic institution (i.e. the University of Tokyo established in 1877). Today, UTEC is supporting a wide range of universities and research institutes (not limited to the University of Tokyo), by helping them in scouting and commercializing the cutting-edge research. Venture capital funds like UTEC, which invest in university startups have not been very popular in Japan until about three years ago. However, nearly 10 different funds have been established in the last 3 years. The reason being high expectations on the university startups and the evaluations which have gone up rapidly over the last three to four years. UTEC's core philosophy - " We pioneer the frontiers to solve global issues of humankind, by bringing capital, talent and knowledge, around science and technology. ". The investment strategy, in sync with the philosophy, is to create / nurture / invest in startups with three key ingredients - cutting edge science / technology, a strong and powerful team, solving problems on a global scale and mankind. UTEC Venture Meetup, has some exclusive pitches from 36 startups (having the key ingredients) from the prized UTEC portfolio. At the end of the pitch session, the audience were presented with an amazing chance to give feedback, suggest business partnerships, explore collaborative research, to interview with the company if they were really excited to work with the company, etc. UTEC Venture Meetup marked the 2nd successful startup event of UTEC in 2017.  On this occasion, Mr. Kazuhiko Toyama and Associate Professor Yutaka Matsuo, represented the facades of both business and academia at the event. Through "Meetups" and creating "New bonds", such as this event, we at UTEC, hope that novel innovation and ideas will be born and that they will be propelled further to the world to make it a better place.
***** List of companies******
10 Life Science & Healthcare
【Miltel Co., Ltd.】 Dr. Hidetoshi Tahara · · · Creating a "society" hard to be diseased with medical innovation, contribute to health & longevity and medical cost reduction
【Edit Force CO., LTD】 Dr. Takahiro Nakamura ... Disrupting the drug discovery, agriculture and material production fields in Japan and abroad through a cutting-edge genome editing technology from Japan
【Goryo Chemical Inc.】 Dr. Kenichi Maruyama · · · Developing a navigation drug for rapid diagnosis during cancer surgery from Japan
【Repertoire Genesis Inc.】 Dr. Ryuji Suzuki · · · Developing novel biomarkers and immunotherapy using immunodiffusion analysis
【CREWT Medical Systems, Inc.】Mr. Tetsuya Eguchi · · · Improving the quality of vision, "Let's see clearly! For the rest of our lives"
【TAGCyx · Biotechnologies.】 Dr. Chizuko Koseki · · · Creating highly efficient, safe and low-cost nucleic acid drugs, bringing reforms to medical industry
【GlyTech, Inc.】 Mr. Hiroaki Asai · · · Paradigm shift of biopharmaceuticals through glyco-chain technology
【Quantum Biosystems Inc.】 Mr. Toshihiko Honkura ... ... Developing a new industry that utilizes genetic information by developing innovative DNA sequencers
【MOLCURE CO., LTD】 Dr. Ryu Ogawa · · · Designing useful antibodies for diseases whose cure have not been found
【PROVIGATE Inc.】 Dr. Koshin Sekimizu · · · Creating a perceptually extended society through biosensors
15 IT startups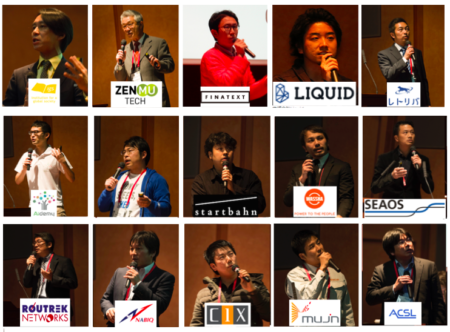 【Institution for a Global Society】 Dr. Masahiro Fukuhara · · · Increase the number of companies and talents that can co-create and compete in the world, aim to create a more peaceful world than ever
【ZenmuTech, Inc.】 Mr. Yoshikazu Taguchi · · · Secret distribution technology contributes to high security society and provides next generation information security infrastructure
【Finatext Ltd.】 Mr. Ryota Hayashi · · Develop data business for micro / macro and stock · currency exchange applications. Also announced the establishment of a securities company to create the next generation securities platform
【Liquid, Inc.】 Mr. Yasuhiro Kuda · · · Creating identity verification technology for a better society
【Retriever, Inc.】 Mr. Kazuya Kawahara · · · Creating software that supports human tasks with state-of-the-art AI technology
【Aidemy Inc.】Mr. Akihiko Ishikawa · · · Creating a gateway to one million artificial intelligence engineers in the world
【Money Design Co., Ltd. 】 Mr. Jin Nakamura ... Democratize financial services with the power of technology and redefine the relationship between people and money
【Startbahn, Inc.】 Mr. Taihei Shii · · · Creating a society in which art is democratized, meaning it has importance as close to familiarity as not only culture but also as commercial goods.
【Digital Grid Co., Ltd.】 Mr. Satoshi Akita · · · Power to the People: Deliver "living with electricity" to developing countries
【SEAOS Inc.】 Mr. Akira Matsushima · · · Creating a society where human beings can utilize their human nature to create more valuable products
【Routrek Networks, Inc.】 Mr. Shinichi Sasaki · · · "Vacations for farmers" A sustainable society that raises agricultural productivity with limited earth resources and brings vacations for farmers
【Nabiq, Inc.】 Mr. Ryuji Watanabe ... Developing the wireless BB infrastructure that is convenient and safe in the world and bring about a communication revolution
【C1X Inc.】Dr. Daisuke Nagayama ... Create the optimal blend of "man and machine" in advertising / marketing
【MUJIN Inc.】Mr. Junya Konishi · · ·  The world's first intelligent robot controller maker. Driving robot market expansion by making robot intelligent
【Autonomous Control Systems Laboratory Ltd.】 Dr. Hiroaki Ohta · · · "The Industrial Revolution of the Sky" and the development of a domestic industrial drone that Japan is praised for across the world 11 Physical Science & Engineering
11 Physical Science & Engineering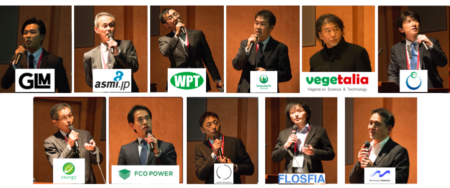 【GLM Co., Ltd.】Mr. Tomohisa Tanaka · · · By providing a chassis (chassis platform) which is the last key necessary for entering the automobile industry, restore the excitement into automobile manufacturing
【Advanced Softmaterials Inc.】 Dr. Yumiki Noda · · · Super-molecular network structure, supple polymer material supple and tough.
【Wood Plastic Technology Co., Ltd.】 Mr. Tota Nakayama · · · Contributing to alleviating global warming through diffusion of products with low environmental impact using biomass resources
【Green Earth Institute Co., Ltd.】 Mr. Tomohito Ihara · · · Solving the "energy", "food" crises and saving the "environment" of the world with coryneform bacteria
【vegetalia, inc.】 Mr. Satoshi Koike ... to create a sustainable environment and a healthy society using the latest plant chemistry and technology
【NExT-e Solutions Inc.】 Mr. Makoto Inoue ... supply core modules of EV to the world's largest Chinese automobile market!
【Exergy Power Systems, Inc.】Dr. Toshiki Kabutomori · · · Next generation animal energy system solves economic rationality of energy, environmental problem, safety and security at the same time!
【FCO Power Inc.】 Mr. Tomohiko Hibino · · · Next generation SOFC of low cost and space-saving contributes to efficient utilization of energy resources
【Seven Dreamers Laboratory】 Mr. Shinichi Sakane ... We are "a technology group that creates things not in the world"
【FLOSFIA Inc.】Mr. Toshimi Hitora ... · Realize the energy saving revolution through new power semiconductor "corundum structure gallium oxide (α - Ga
2
O
3
)"!
【Microwave Chemical Co., Ltd.】 Mr. Iwao Yoshino · · · Change the world energy and chemical industry by microwave process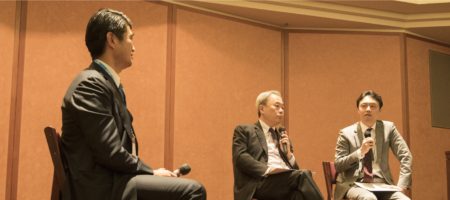 Various topics such as how university spin-off startups need to be nurtured, university policy issues, financial issues associated with these startups and how the development and expansion of these startups can help with the growth of Japan's GDP. All the participants from the networking event had a great time. UTEC received many positive comments such as "I was able to touch-base with a lot of wonderful ideas", "A stimulating for various ideas, thoughts and approach methods from unknown fields" etc. As UTEC, we will strive to do our best to develop startups will definitely need all the continued support in the future.