PORTFOLIO PRESS RELEASE
Industrial Robotics Software Startup MUJIN Inc. raises $950K Series A funding from UTEC -The University of Tokyo Edge Capital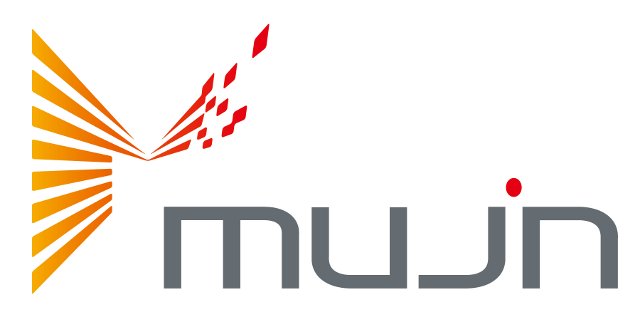 Tokyo, Japan September 20th 2012
Series A Funding
MUJIN, Inc. , a Japanese start-up developing system solutions for industrial robots announced that it has raised $950K in a Series A financing from UTEC – The University of Tokyo Edge Capital. MUJIN will use the new capital to advance its robot motion planning systems and deliver their first product MUJIN Controller that leverages many-core servers to automatically create complex motion programs for industrial robots and optimize layouts of industrial environments.
MUJIN Background and the Founders
MUJIN Inc. was founded at The University of Tokyo in 2011 by Issei Takino and Dr. Rosen Diankov, a researcher at JSK Laboratory of The University of Tokyo, a world-renowned roboticist, and the main contributor of the widely used open-source robot motion planning system OpenRAVE. Dr. Diankov has created and supported the Open Robotics Automation Virtual Environment (OpenRAVE) for over six years, and he is now using that experience to help the MUJIN team tackle tomorrow's automation challenges along with robot makers, robot users, and robotics research institutions.
The founding of MUJIN centering on OpenRAVE's core technologies is another great example of recent trends where open-source technologies enable new business solutions and can compete with the alternative commercial solutions.
Although there are many fields where MUJIN's technology can be applied to, the main target is Factory Automation (FA) for industrial robots. Although FA demand is high and increasing everyday, current generation technology requires special training and the overall integration process is very time consuming process, which raises costs and impedes performance. By providing stand-alone to fully integrated solutions and services, MUJIN strives to help robot system integrators work more efficiently, shorten their development and deployment cycles, and increase overall manufacturing productivity.
Industrial Robot Automation for Everyone
MUJIN's mission is to accomplish allow complex industrial robotic systems to be setup by anyone regardless of their skill; easy access to industrial robots is the key to promoting factory automation and increasing worldwide manufacturing productivity.
Some key manufacturing markets in need of better automation technologies are:
– Food & Medical
– Electronics
– Automotive
– Logistics
MUJIN Controller: Key Features
MUJIN Controller's innovative solution to industrial robot programming will dramatically improve the existing expensive and complicated processes. MUJIN Controller allows a user to specify desired robot tasks in an intuitive user interface. It then generates collision-free motion plans considering the user-specified task constraints and provides motion planning optimizations. MUJIN Controller saves precious design, development, and deployment time and improves performance in common industrial robotics tasks like manipulation. Furthermore, conventially hard programming tasks like dual-arm-manipulation are simple to test and deploy.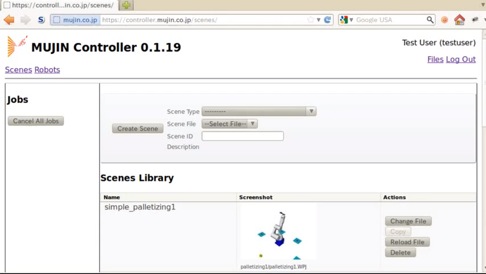 MUJIN Controller Web Interface
Automated Collision Avoidance System
Most existing industrial robot programming packages can only check for collisions of the workpiece and robot, so they require users to manually move the robot out of collision. In comparison, MUJIN Controller automates all collision avoidance and constraint handling processes. It provide clean, simple, and customizable interfaces that require only high-level parameters as input.
Advantages:
1. MUJIN Controller can eliminate most of the manual teaching operations, which can reduce development and deployment cost.
2. MUJIN Controller can create motion plans for tasks that are difficult to program with manual pendant-based teaching.

Seat Assembly Programming & Simulation
Multi-Robot Manipulation Planning System
Most robot simulation packages consider just a single robot and are not configured to simultaneously compute solutions for multiple robots. Because of this handicap, robot programmers have a difficult time producing non-colliding motions for robots moving in the same workspace. To solve these problems, MUJIN has leverages algorithms for collision-free motion plans for multiple robots in the same environment. Furthermore, the MUJIN Controller makes it possible to optimize the combined locations of all robots involved in the task. Customers would be able to use multiple robots together in an assembly line, which can result in a substantial gain in productivity. MUJIN Controller can also optimize for cell-manufacturing where a dual-arm robot performs a complex assembly task.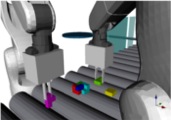 Multi-Robot Programming & Simulation
Robot Placement Optimization System

What are the feasible locations of the robot where the task can be completed?
Among these feasible locations, which allows the robot to perform the task most quickly?
To answer these questions, the MUJIN Controller evaluates thousands of robot positions and orientations, and for each robot placement it solves for an optimal motion plan. MUJIN Controller is designed with the latest parallel computing technology in order to quickly provide a optimal solutions while taking into account collision avoidance, singularities, and sensor-based visibility constraints.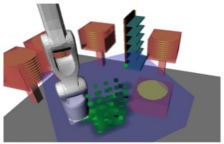 Placement Optimization
The World First Grasp Planning System

MUJIN Controller allows robots to change tools and grasp workpieces while computing motions.
1. The robot can easily mount different tools, which become part of the robot's collision geometry.
2. Once the tool is specified, the robot can grab the workpiece, transfer it to its goal, and release it without adjusting any parameters. Multiple workpieces and tools can be chained in one task to form complex assemblies.
3. The tool can move the workpiece while avoiding environment collisions.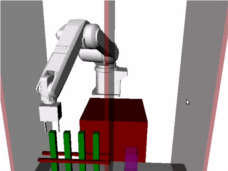 Grasp Planning
About MUJIN
MUJIN Inc. was founded in 2011 to develop automation solutions for industrial robots in order simplify factory automation and increase worldwide manufacturing productivity. With MUJIN Controller's innovative solution will dramatically improve the existing expensive and complicated industrial robot programming process as well as the efficiency and usability of those robots.
http://mujin.co.jp
About UTEC
UTEC is a seed/early stage technology focused venture capital firm associated with The University of Tokyo, in Japan. UTEC has approximately $160 million under management, and is currently investing from its second fund of approximately $80 million established in 2010. Having preferential access to the University's inventions and its network beyond, UTEC works closely with entrepreneurs and researchers as scientific founders to co-found companies which will contribute to society through business based upon innovations. UTEC has invested in 38 companies in Japan and the United States.
http://www.ut-ec.co.jp
Inquiries:
info@mujin.co.jp
+81-
50-3682-7852