UTEC NEWS
UTEC Managing Partner Goji's Participation at the Japanese VC Roundtable hosted by Indian Prime Minister Narendra Modi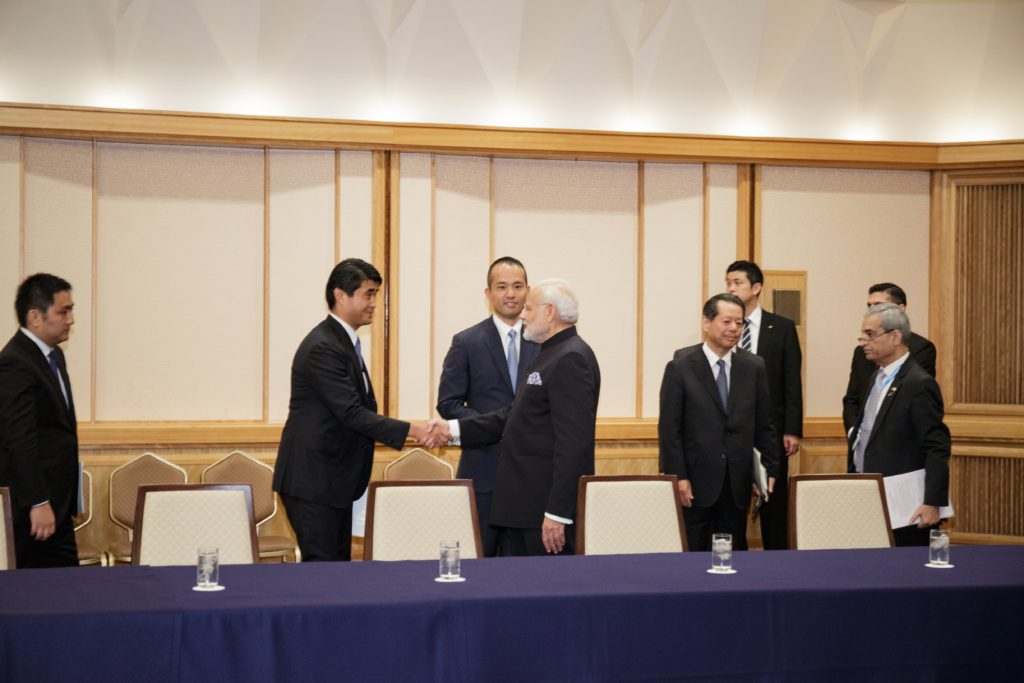 Goji greeting PM Modi at the gathering
The Prime Minister of India, Narendra Modi, met leading Japanese venture capitalists during his visit to Tokyo on October 29, 2018. UTEC was honored to be a part of this gathering with our Managing Partner Tomotaka Goji's participation in the ensuing discussion.
The last few years have seen a deepening of strategic relationship between Japan and India with a special focus on startup and technology-related collaborations. In this regard, Indian Prime Minister Narendra Modi hosted a roundtable of top Japanese VCs in Tokyo during the 13th India-Japan Annual Bilateral Summit. The agenda included ways to boost the dynamic start-up ecosystem in India and further a spirit of innovation as well as entrepreneurship. The delegates of the gathering included top Japanese VCs who actively invest in India including UTEC's own Tomotaka Goji, Teru Sato of Beenext, and representatives of funds such as Jafco, Incubate Fund India, Dream Incubator, etc.
Speaking at this august gathering, Goji stressed the importance of creating a dynamic ecosystem between India and Japan in which we grow mutually beneficial investments to nurture deep-tech startups that are beginning to make global impact.  He cited examples of UTEC portfolio startups in India such as
Tricog
and
Bugworks
as stellar cases of technology investment and R&D collaboration between the two countries. Goji also outlined several key policy recommendations to the Indian government to pioneer the deep-tech startup ecosystem in India such a legal framework to allow international investors to smoothly invest-in and take the returns back from India, and urged the Indian government to work with international medical authorities to enable the healthcare/life-sciences startups to conduct clinical trials and secure regulatory approvals in a mutually harmonized, transparent way.
Goji's views were well-received by the delegates, including PM Modi who noted in his closing remarks that Goji's policy recommendations were prudent and assured that the Indian government authorities will take due steps to foster a thriving deep-tech ecosystem in the country.
As a follow-up of the event, India's National Investment Promotion Agency Invest India invited UTEC to participate at the Startup India Global Venture Capital Summit in Goa on December 6, 2018. UTEC Partner Noriaki Sakamoto and Venture Partner Kiran Mysore are scheduled to attend this event as delegates and carry the discussions forward.