PORTFOLIO PRESS RELEASE
Naked Technology released Potofoto (beta) – a new group photo sharing app from Japan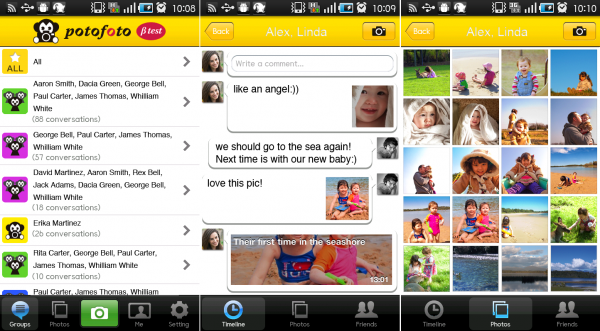 http://www.potofo.to/
Potofoto (beta) is released at the Mobile Monday Silicon Valley event on Monday May 16th 2011 and is now available for download from the Android Market.
Potofoto (beta) is the newest and best photo shraing and group chat app on the block! Take a photo and share it with your family, friends, and even enemies in the best private communication fun!
[Photo sharing and group chat]
-Login with your Facebook account
-Snap a photo. You can upload your photo from your library as well.
-Select your frinds on Facebook whom you want to share the photo with.
-Write message. The written message will be displayed on the photo and notified to your friends.
-Pushing Send button, the photo is easily shared with your friends!
-Potofoto creates a group for you and your friends. Check it out at Groups.
-Group URL will be posted to your friend's wall on Facebook privately.
-Anyone on Facebook can enjoy the photo and group chat even without this app
-Created group is invisible from anyone else. Enjoy your private communiction!
-You can check your groups from the website.
[Beta testing version]
-This app is Beta testing version
-Your feedback will be applied to the next version. Please post your feedback from MENU.
-More functions like sync with other SNS and contact list are coming soon!
[About Naked Technology, Inc.]
Naked Technology provides software platform services based on web technologies to bring innovation into media, contents and social communication fields. Based on its insights into the relationship between information and mankind, Naked Technology builds innovative products and services for the global markets.
Naked Technology is a technology start-up founded by graduate students of The University of Tokyo and Keio University when they met at the Exploratory IT Human Resources Project (The MITOH Program) of IPA,Japan. Naked Technology develops software applications for multiple mobile carriers utilizing its proprietary mobile application development platform "Colors".